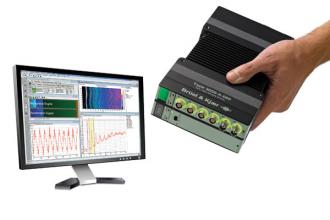 The PULSE hardware/software family is your solid foundation upon which to build a system to suit your present needs, and that can be extended as your requirements change.
The big new in PULSE 19 is the release of PULSE Reflex Structural Measurements enabling Reflex to do real-time data acquisition. PULSE 19.0 will be released for sale and delivery on December 15, 2014.
The release contains:
• General RFS/RFD of 32-bit PULSE (including Reflex)
• General RFS/RFD of 64-bit Reflex; all non-measurement software
• General RFS/RFD of Reflex Structural Measurements
PULSE Reflex adds dedicated post-processing applications to the PULSE software environment. It brings together a range of generic post-processing tools for offline analysis and processing of time data, experimental modal analysis and building acoustics data analysis. The innovative GUI delivers genuine ease-of-use through a workflow concept that is easy to learn and consistent across applications.